There are many such factors which may help the operators of an excavator to ameliorate their productivity while carrying out day to day construction work, but the foundation of such improvement lies in choosing the appropriate bucket for relevant excavator application.
A standard excavator bucket cannot be generalized for use in several or all applications. This, if practiced, by the operator may impact the productivity negatively and might result in reduced or lowered efficiency.
Before choosing a bucket for a particular application, the operator should essentially consider the task for which the bucket is to be used. The other factors for consideration should include how dense and heavy the material to be excavated is the systems for an easy change of attachments and accessories that may be put to use. The operator also has to check that the bucket which has been selected for any particular task, in no way exceeds the capacity of the machine to be operated.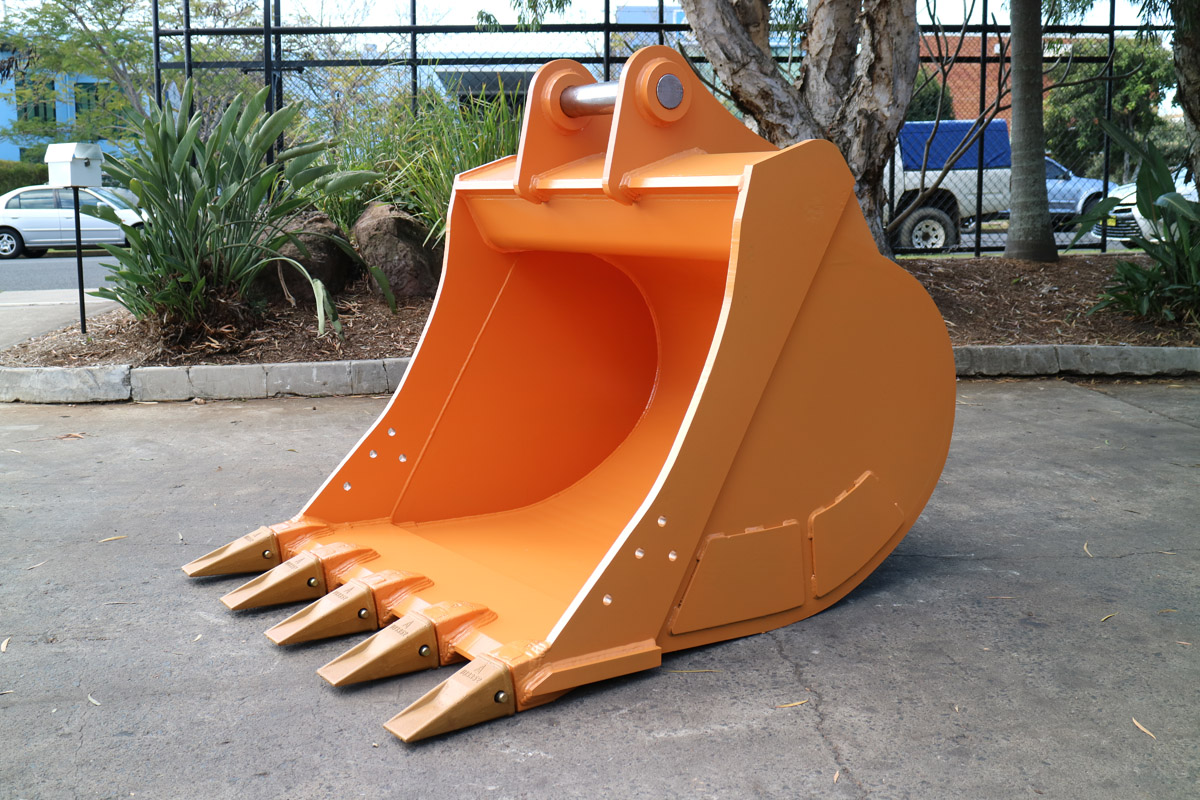 Hence, in order to make the operation effective and successful, the excavator bucket types should be chosen keeping the following major points in mind:
The Excavating needs
The primary purpose of excavating is to handle and move bulk material.  As such, all the types of buckets are designed for flawless completion of material movement. Three basic types of buckets are available for discriminated applications. These are:
Angle tilt bucket
Trenching bucket
Ditching bucket
Angle tilt is a less costly type of bucket and may be extensively used for clearing land and in finishing and grading applications. They can be angularly rotated in both the directions from the center at 45 degrees.  Their tilting speed may be adjusted and the auxiliary valves present in them help to control the flow.
Ditching buckets are mainly used for the purpose of soil digging and ditch cleaning bucket are devoid of teeth.  Their edges are either linear or gently serrated. The mouths of these buckets are wider and deeper than trenching buckets. They can dig deeper and as such are used for operating smoothly on clay, damp soil or sand. Loading of materials, cleaning blocked sewerage and ditches and grading are the general functional areas where they may be used.
Trenching buckets are those who have sharp teeth present at their edge. This allows the operator to cut deeply through rocks and thus facilitates in digging narrow and deep trenches. They have a superb force and can make fast repeats thereby minimizing the time duration of excavating task. The steel made teeth are highly abrasion resistant and hence offer high durability.
The varied soil conditions
The excavator buckets may broadly be divided into two types to work on different soil conditions:
Heavy duty and
Severe duty
The most commonly used excavator buckets are the heavy duty type because they can smoothly operate on a huge variety of soil.
Such buckets can be extensively used to work on gravel, silt, clay, sand, etc. These buckets do not have teeth but are equipped with abrasion resistant side cutters for increased strength and power.
Severe duty, on the other hand, are buckets that suit rocky surface and can facilitate severe digging tasks. Their edges are equipped with sharp teeth for cutting through loose rock. The cutting edge of the bucket can effectively dig through the hard surface and hence this is used by operators in mountainous areas or on the concrete ground.
A wise practice of the given steps allows an operator to efficiently choose a particular type of excavator bucket for a particular application to ensure smooth and effective completion of the excavating task.